I'm proud to announce that we have just released PowerMockup 4.2. Here's the full list of changes:
3 alternative and related products to PowerMockup. Mockup & Wireframe toolkit for PowerPoint. Webflow University 2.0. Peetch is a 100% free PowerPoint Pitchdeck Template available for Mac & PC. 42 layouts including device mockups - 172 icons (customizable) - Ultra light (788KB) 968 get. Save Mockups To PDF, Image, Office And Other Formats. Using PowerPoint also provides the advantage of making use of the various customization options (e.g. Drawing Tools) to customize the look of items added from PowerMockup Stencil Library.Furthermore, you can save your mockups in PowerPoint supported formats, ranging from PPT or PPTX to PDF, XMl, GIF, JPG, TIF, RTF, Open Document Format.
Added "Expand All" and "Collapse All" context menu items for categories.
Moved application files from "AppDataRoaming" to "AppDataLocal" folder to fix issues with roaming profiles.
Fixed exception on systems that have FIPS mode ("Use FIPS-compliant algorithms for encryption, hashing, and signing") enabled.
As always, you can update to the new version by running the installer from here.
PowerMockup extends PowerPoint with a rich set of UI shapes for quickly sketching screens of web and desktop applications. With these shapes, you can easily create visuals of functional requirements instead of writing lengthy design documents no one wants to read. With just a few clicks, you can mock up complete user interfaces and iterate over. PowerMockup is an add-in that integrates itself into the PowerPoint window. To install PowerMockup, you will need PowerPoint 2007, 2010, 2013, 2016, or 2019 for Windows. Once you have installed PowerMockup, simply click on the large Download More Shapes button.
This is an emergency update to fix a major issue introduced in the previous 4.1.0 release. When upgrading an old PowerMockup 2 or 3 installation, shape files were deleted instead of being converted to the new format required by PowerMockup 4. Version 4.1.1 fixes this bug.
With this update, PowerMockup is now fully compatible with the preview version of Office 2016. The installer automatically detects PowerPoint 2016 and PowerMockup's look and feel adapts to the color themes introduced in Office 2016. If you notice any incompatibilities we missed, please let us know.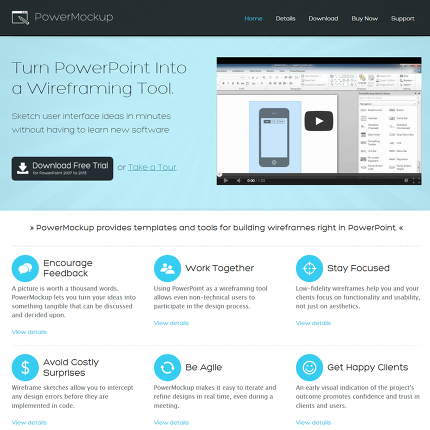 When updating the user interface for Office 2016, we took the opportunity to optimize PowerMockup for screens with high resolutions and large font settings. If you are running Windows with font size set to Medium (125%) or larger, you should notice the difference.
Another important change is that PowerMockup no longer stores any files in the user's Documents folder. Especially in corporate environments, the Documents folder is often redirected to a network location, which can lead to significant performance issues when updating PowerMockup's shape library. Shape files and settings are now stored in the user's AppDataRoaming folder (%AppData%). Cache and log files are written to AppDataLocal (%LocalAppData%). When starting PowerMockup 4.1.0 for the first time, your files will automatically be moved to the new locations.
Last but not least, here's the full list of changes:
Added support for PowerPoint 2016 Preview.
Added functionality for overwriting existing categories when downloading shapes from the server.
Improved display on high-DPI screens.
Improved SmartResize feature to not overwrite PowerPoint's "Undo" history, but allow changes to be undone.
Moved application files from "Documents" to "AppDataRoaming" and "AppDataLocal" folders.
Fixed another problem with Unicode and single quote (') characters in category and shape names.
Fixed occasional crashes when opening "Download Shapes" dialog.
Today we released PowerMockup version 4.0.3, which includes two small bug fixes:
Fixed a memory leak when working with multiple document windows.
Fixed a problem with Unicode characters in shape and category names.
You can download the installer here.
We have released another minor update for PowerMockup. Here's the changelog:
Fixed connection problem with authenticated proxy servers (used to result in "407 Proxy authentication required" errors).
Fixed a problem with two shape library panes being created in PowerPoint 2010 and 2013.
Fixed the jumping scrollbar issue experienced when deleting items from the shape library.
You can update to the new version by downloading and running the installer from this link.
An update for PowerMockup is available, bringing the following changes:
Powermockup For Macbook
Fixed a problem that can cause corrupted shape files.
Fixed display problems with high-DPI screen settings.
Fixed crashes when running PowerMockup in a remote terminal session.
Fixed a minor problem with positioning tables on a slide.
We strongly recommend that everyone update to the new version. Click here to download the installer.
Why isn't PowerMockup loading in PowerPoint?
If the installation was successful but the PowerMockup Ribbon doesn't appear, it's possible that the add-in has been disabled by PowerPoint. You can check this by following the steps below:
Click the File tab (in PowerPoint 2010/2013/2016/2019) or the Office Button (in PowerPoint 2007).
Click the Options button and select Add-Ins.
For PowerMockup to work, it must be listed in the Active Application Add-ins section.
Powermockup For Mac Computers
If PowerMockup appears under Inactive Application Add-ins, you can activate it as follows:
In the Manage drop-down box, select COM Add-ins, and then click Go.
Tick the checkbox next to PowerMockup and click OK.
If PowerMockup is in the Disabled Application Add-ins section, you can enable it as follows:
In the Manage drop-down box, select Disabled Items, and then click Go.
Select Addin: PowerMockup (adxloader.dll), click Enable, and then close the dialog window.
In the Manage drop-down box, select COM Add-ins, and then click Go.
Tick the checkbox next to PowerMockup, and click OK.
Powermockup For Macrame
If the steps above don't solve the problem, please send us a message.